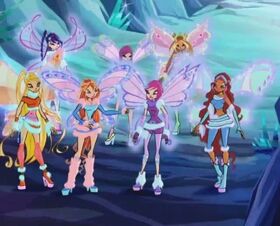 Lovix
is a sub-transformation of the Believix, which is accessed through the
Gifts of Destiny
, which in this case is the Gift of the Heart.
Sequence
In the transformation, the fairies appear with their Believix form, immediately after, they make a movement of the Believix sequence. Then, they announce their spell and main power of the Lovix and appear with the completed transformation making the final pose.
Appearance
Like the Sophix, the structure is similar to the Believix but winter style and more sheltered. The wings have precious stones but lack designs on the inside and details on the edges.
Powers